In this 'doing absolutely everything online' era flights are booked through a bunch of travel websites such as Skyscanner, Kayak or CheapTickets.nl. Even though we loved some of these flight search engines, there were still times we flew off the handle instead of flying to Thailand, due to overpriced flights, mental booking fees, or arranging group flights (complete torture). There was room for improvement!
And that's when Flymble steps in. Our fierceless team decided that dreaming about Thailand, Argentina or Tanzania wasn't good enough, we've simply got to get you there. We're focused on smart tech solutions and 'let's get people to explore the world' kind of innovations. And we won't give up until you're drinking from a coconut on a sandy beach or having the adventure of your life. Does anyone out there mind sandy beaches and adventures? Someone? Anyone? Yeah, that's what we thought!
So here's the deal with Flymble
We make it easy
We save you time
We save you money
Simple. Easy. Hassle free. Cause there's tons of traveling to do!
We save your time
Booking the flight is definitely the least fun part of traveling. That's why we make it super fast. We know you've got more important stuff to do. Like digging out dope info on true travelers stuff you'll do once you arrive to the destination. We have a challenge for you - search for a flight on Flymble.com and then on Vliegtickets.nl, see which one is faster. How long did it take you on each site?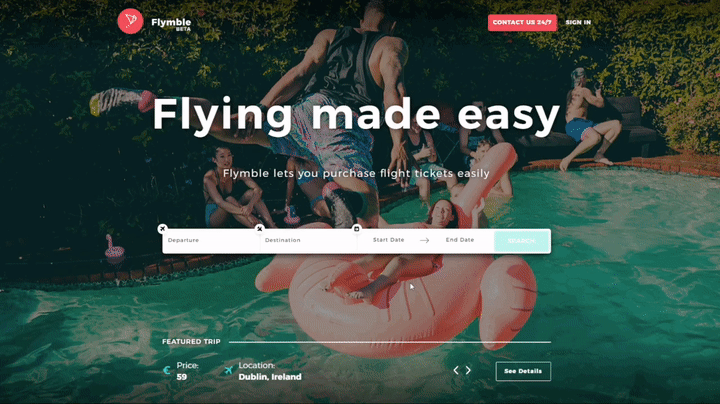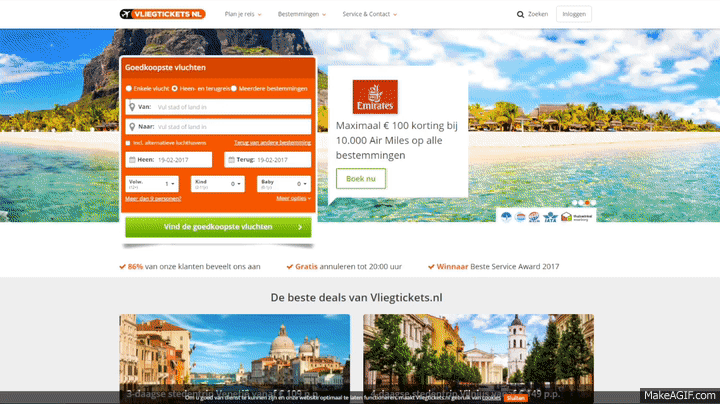 We make it easy
The platform is super easy to use. There's no need to select a certain date or month for your flight. Enter the destinations, hit 'Search' and the first flight that pops up is the cheapest one. Hey flexible travelers - this one is for you! Challenge no 2. Select a destination, and check whether it is easier to find the cheapest flight on Flymble or Skyscanner. Let us know! Remember, we're still in beta and just getting started… but your feedback is worth gold!

We save your euros
We'll find the cheapest possible ticket for you. Have a couple of drinks on your next adventure or go buy yourself something nice. It's on us!

Flymble doesn't stop there, our devoted team is working super hard to make traveling easier!

Stay tuned, here's some stuff we'll introduce soon:
PayPal and Credit Cards Payment
A bunch of people worldwide use PayPal. Over 197 million to be exact. Having both options on the site makes it easier for everyone to achieve their coconut on the beach/discovering awesome places/going on crazy adventures goals.
Paying in Installments
You wanna bungee jump in Dubai, throw some colors on people during the Holi festival in India, dance for a week in Ibiza? You have the time for it, but how the heck could you afford it? Don't worry, we've got you covered, you can pay in installments. Cause we're a 'fly now, pay later' kind of website. That's how we roll.
Now that you have all that info what are you still waiting for?
Book that flight!
Other posts of this author
Why Flymble?
We believe that everyone should have the right to experience the joy of travel and adventure. Our goal is to make it possible for everyone to